DEADLINE reports that NETFLIX is going to produce a new sitcom
.
It's going to be the 70s and 80s sitcom classic ONE DAY AT A TIME.
That show starred Bonnie Franklin (deceased), Pat Harrington (just died recently), Valerie Bertinelli
(whose name DEADLINE mispells), Mackenzie Phillips and Shelley Fabares.
It revolved around divorced Ann and her two daughters Barbara and Julie.
The remake is going to star Rita Moreno among others.
That's reason enough for me to be excited.
I also like that it's going to be multi-cam.
I'm glad Netflix is going to diversify their sitcoms.
The one camera thing gets old for me real quick.
Going out with C.I.'s "
Iraq snapshot:"
Monday, January 11, 2016. Chaos and violence continue, Basra continues to be a hot spot (and the western media continues to ignore it), Haider says Iraq can do its air bombings just well but then . . . ,
Shi'ite militias commit War Crimes, Ramadi lays in ruin, and much more.
Iraq was slammed with violence today.
REUTERS counts
a minimum of 51 dead in Baghdad and the eastern town of Muqdadiya.
MIDDLE EAST EYE explains
, "Three bloody attacks struck Iraq on Monday evening, with gunmen raiding a Baghdad shopping mall, a bomb rocking a busy market in the capital and further bombings killing at least 20 in a town north of Baghdad."
Of the violence,
Judy Woodruff (THE NEWSHOUR, PBS) notes
, "It began with a car bomb and suicide blast at the Jawhara Mall. That touched off a 90-minute gun battle before security forces gained control. To the north, another suicide attack killed two dozen people. Ten more were killed in other bombings." Muqdadiya is a town in Diyala Province. Of the violence there,
Mu Xuequan (XINHUA) reports
, "Up to 23 people were killed and 44 others wounded on Monday in two coordinated bomb attacks at a coffee shop in a town in Iraq's eastern province of Diyala, a provincial security source told Xinhua."
Hamdi Alkhshali (CNN) notes
, "ISIS claimed responsibility for both bombings in statements posted on its media site."
DEUTSCHE WELLE observes
, "The bombings and attacks on Monday left the biggest death toll in three months. Without naming IS, Interior Ministry spokesman Brigadier General Saad Maan blamed 'this terrorist group after they suffered heavy losses by the security forces'." In light of today's attacks,
ALL IRAQ NEWS notes
, Ammar al-Hakim, leader of the Islamic Supreme Council of Iraq, has called on the Baghdad Operations Command to re-examine their security plans.
U.S. Condemns Terrorist Attacks in Iraq
Press Statement
January 11, 2016
The United States condemns the barbaric acts of terrorism today in Iraq, including a suicide bombing and hostage-taking at a mall in Baghdad for which ISIL has claimed responsibility and two separate suicide attacks in Muqdadiyah. We express our deep condolences to the survivors and to the families of the victims.
These attacks once again display the utter disregard ISIL has for the lives of innocent civilians. We stand united with the Iraqi people as they confront the scourge of violent extremism.
The United States remains committed to working with Prime Minister al-Abadi, the Iraqi Security Forces, and our Coalition partners to support Iraqi-led efforts to degrade and destroy ISIL.
On Muqdadiyah, Diyala Province has been placed under curfew. The unrest includes:
Muhanad Seloom Retweeted HadidH حامد حديد
Militias tell residents by sound amplifiers attached to cars "Sunnis should leave Muqdadya-Diyala". #Iraq
Muhanad Seloom added,
Crowd popular Shia executed innocent citizens in Diyala #Iraq
Dropping back to Sunday
:
Though many Americans have tuned out since 2009, they need to be paying attention.



Graphic Shia Militias cut off a Sunni man's ear to show how "tough" they are with suspects of terrorism. #Iraq



And it is graphic.

And guess what?

You don't have the right to look away.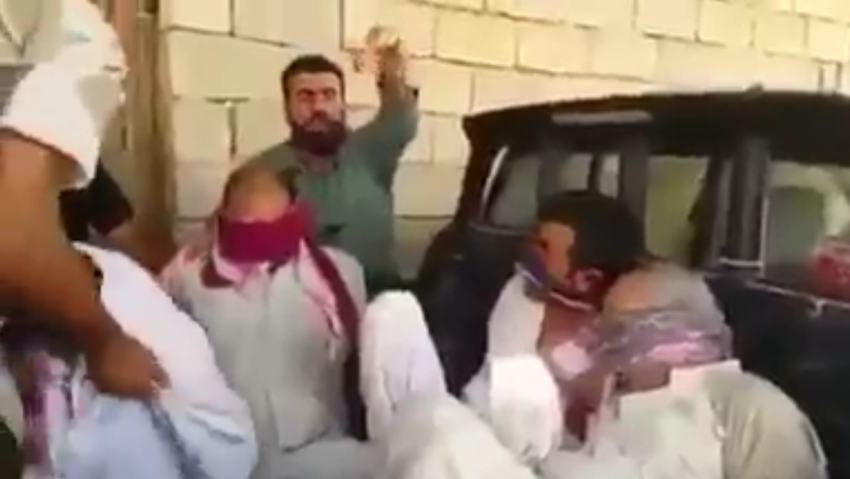 When Iraqis don't have the right to safety in their country because thugs were put in charge by the US government and thugs continued to be backed by the US government, you don't have the luxury of looking away.

Above?

That's outrageous.

There's no legal justification for it.

Not even in the joke that is the Iraqi legal system.

What happened should result in immediate prosecution.

Those are War Crimes.

The prime minister of Iraq, Haider al-Abadi, should be denouncing the crimes.

Any refusal to do so should result in the US Congress exploring whether or not they should continue their support of Haider's government.
Haider didn't not denounce the War Crimes.
John Kirby didn't even acknowledge them in today's US State Dept press briefing.
You can be sure Sunnis across the Middle East are aware of the silence.
There was other violence today -- including a
Baquba car bombing that killed 1 woman and left three other civilians injured
-- but let's note this from the US Defense Dept:
Strikes in Iraq
Bomber, fighter, ground attack and remotely piloted aircraft and rocket artillery conducted 12 strikes in Iraq, coordinated with and in support of Iraq's government:
-- Near Haditha, two strikes struck two separate ISIL tactical units and destroyed an ISIL fighting position.
-- Near Hit, one strike struck inoperable coalition equipment, denying ISIL access.
-- Near Kisik, one strike destroyed an ISIL warehouse.
-- Near Mosul, four strikes struck an ISIL tactical unit and an ISIL improvised explosive device facility and destroyed 11 ISIL fighting positions and an ISIL vehicle.
-- Near Qayyarah, two strikes struck an ISIL tactical unit and destroyed an ISIL-used culvert.
-- Near Ramadi, two strikes struck two separate ISIL tactical units and destroyed two ISIL mortar positions, two ISIL heavy machine guns and two ISIL fighting positions.
Task force officials define a strike as one or more kinetic events that occur in roughly the same geographic location to produce a single, sometimes cumulative, effect. Therefore, officials explained, a single aircraft delivering a single weapon against a lone ISIL vehicle is one strike, but so is multiple aircraft delivering dozens of weapons against buildings, vehicles and weapon systems in a compound, for example, having the cumulative effect of making those targets harder or impossible for ISIL to use. Accordingly, officials said, they do not report the number or type of aircraft employed in a strike, the number of munitions dropped in each strike, or the number of individual munition impact points against a target.
On air strikes, yesterday
XINHUA reported
, "Iraqi Prime Minister Haider al-Abadi on Saturday said that more than 60 percent of sorties in the battles against the Islamic State (IS) militant group were carried out by the Iraqi air force conducted."
Today?
AL MADA reports
Haider wants an explanation for Iraqi planes bombing an area near Spyker -- a bombing that killed Iraqi fighters by mistake.
Dropping back to
Saturday's snapshot
:
From December 31, 2015's "Those never-ending victory laps:"


I guess every day is going to be about declaring and celebrating the liberation of Ramadi -- since it was first claimed on Monday and until the day finally comes that it is liberated.
Point of fact, it's still not liberated.
But every day, the limited amount of time the world press spends on Iraq is taken up by tales of Ramadi's liberation.
And so much more gets ignored.
For example?
IRAQI SPRING MC reports counter-terrorism forces in Diyala shot dead a female civilian in front of civilians and Iraqi troops.
Or how about a new flashpoint developing?
IRAQI SPRING MC notes troops being sent to Basra. This comes as NATIONAL IRAQI NEWS AGENCY notes MP Abd al-Salam al-Maliki is calling for the declaration of a state of emergency in Basra arguing the situation there is turning into a crisis.
But by all means, let's all waste another day declaring Ramadi liberated (when it's not).


That's how the year ended -- and with no western press coverage of Basra, to be very clear.

Nine days later?

Sinan Salaheddin (AP) reports, "Fear has become part of daily life amid a surge of violence in Basra, where rampant crime, kidnappings and extortion have become commonplace. Marauding Shiite militiamen drive around in cars with tinted windows and without plates, while local clans wage bloody feuds."

Basra's struggling and, in part, that's said to be because Iraqi forces are being deployed elsewhere in Iraq.
Basra remains in the news.
Not in the coverage from the western press.
But the Iraqi press is noting it today.
For example,
ALL IRAQ NEWS reports
Major General Abdul-Karim Mustafa Mizel (chief of police of Basra) states the conflict in Iraq has a negative impact in Basra and that Basra is under attack.
Mohammad Sabah (AL MADA) notes
that previously when Basra was seen as in trouble, former prime minister Nouri al-Maliki ordered the Charge of the Knights (2008).
At some point, Basra's going to demand attention even from the fickle US press.
Turning to today's US State Dept press briefing moderated by spokesperson John Kirby:
QUESTION: The governorate council of Anbar say that Ramadi was left in ruins after its liberation and they say it needs billions of dollars. But they also say that the United States pledged $50 million for the repair of the city of Ramadi. Could you confirm that you guys put about $50 million to aid Ramadi?
MR KIRBY: I don't know if I have – I don't know if I have that. I don't know if I have that, Said. Hang on a second. So, yeah. So the UN established a funding facility for immediate stabilization in June of last year, so this past summer, to provide assistance for immediate needs in areas liberated from ISIL. Over a dozen coalition partners have contributed or pledged more than 50 million. That's where the number comes from. This included an initial U.S. contribution of $8.3 million followed recently by an additional pledge of another $7 million for a total of, obviously, 15.3. This money will support four categories: public works and light infrastructure rehabilitation, livelihoods support to jumpstart the local economy, capacity building of local governments, and community reconciliation.
So our share of the 50 million pledged by the coalition was 15.
QUESTION: Do you have any sort of independent assessment of what kind of damage was inflicted on Ramadi during the occupation of ISIS?
MR KIRBY: I don't have – I simply don't have that level of detail, but we absolutely would not dispute the reports that there was damage. And we know very specifically even through just the use of overhead imagery that lots of infrastructure and buildings were destroyed during ISIL's occupation of Ramadi. I'm not able to give you sort of a number figure, metrics on that. But I tell you what, I'm going to – I think that's a fair question. I'd like to take that and see if we can get you back a little bit more fidelity on it because it's a very fair question. We know that there was damage, some of it significant. I'm just not at liberty to sort of give you a more specific metric of that.
Ramadi is destroyed.
What a wonderful 'accomplishment' for Haider and the White House.
Back to the press conference.
QUESTION: Iraq.
MR KIRBY: Yeah.
QUESTION: Thank you. So there have been some media reports about Mosul Dam being – facing the imminent risk of collapse. Do you have anything on that? Is the State Department involved in helping prevent that from happening?
MR KIRBY: What I can tell you is that we continue to support Iraqi-led efforts to help take measures to repair the dam to prevent a potential humanitarian crisis and educate the Iraqi people about the potential damages of a dam breach. Sorry. We have provided some equipment to monitor the stability of the dam and we've sent some technical experts to assess the dam's structural integrity, and we're going to continue to work with Iraqi leaders on that.
I'm not at liberty to make any predictions about the fate of the dam right now. Obviously, we all have a shared interest in making sure that its integrity is preserved.
QUESTION: But since you provided some equipment, does that suggest you are – your assessment is that the dam is in danger of collapsing anytime soon?
MR KIRBY: The data that we have from the dam indicates that it has experienced additional stress since ISIL captured it in the summer of '14. Since Iraqi and Kurdish forces have liberated the dam – since they liberated the dam in August of '14, we've been working closely with Iraqi partners to help them monitor the integrity and make necessary repairs. It's just – it's impossible right now for us to make a prediction about if or even when the dam might break.
QUESTION: Has Iraq sought financial assistance from the U.S.? Because its economy apparently is struggling because of the drop in oil prices.
MR KIRBY: I'm not aware of any financial assistance that they asked for. Obviously, as I said, we provided some equipment and some technical expertise.
QUESTION: John, could I ask a question about the aid to Ramadi?
QUESTION: Sorry, could I ask just one more on the dam, then? The expertise – does that involve U.S. engineers at the site, or of the dam itself?
MR KIRBY: Well, we sent technical experts to assess the dam's structural integrity.
QUESTION: But they are not based at the dam? They were visiting recently?
MR KIRBY: I believe whatever access they had to the dam was temporary, I mean, just in order to do their job.
Yeah.
Winding down, singer-songwriter David Bowie has passed away. Jody Watley notes the passing in "
Celebrating David Bowie.
" The New Year began with the sad news that Natalie Cole had passed away December 31st. I wrote about this in "
Natalie Cole (C.I. filling in for Ruth)
" but really haven't noted it here.
Tavis Smiley noted Natalie last week on his PBS program (link is video and transcript)
. Still on music, but with some non-death news, singer-songwriter
Carly Simon
has authored the best selling memoir
BOYS IN THE TREES
. It topped "
2015 in Books (Martha & Shirley)
" -- the community's picks for best books of 2015. And Carly's two-disc set SONGS IN THE TREES is a musical accompaniment to the book (and made
Kat
's "
Kat's Korner: 2015 In Music
"). Today, Diane Rehm spoke with her about the book on
the second hour
of
THE DIANE REHM SHOW
(NPR), Diane also raised other issues.
DIANE REHM: Somebody else, Michael, wants to know your response to the passing of David Bowie.
CARLY SIMON: You really have caught me off guard.
DIANE REHM: You didn't know?
CARLY SIMON: I didn't know. No.
DIANE REHM: Oh, my dear, he died last night or today --
CARLY SIMON: Oh my God.
DIANE REHM (Con't): -- of cancer at 69.
CARLY SIMON: I'm speechless. I'm just speechless.
DIANE REHM: I'm so sorry to be the one to tell you.
CARLY SIMON: Goodness. Goodness. --
DIANE REHM: Did you know him?

CARLY SIMON: I did know him. I didn't know him well, but I certainly knew his music. And I did meet him a couple of times. And it's just -- it's really shocking when you hear something about a contemporary who's passed. It's just -- I mean, it just seems -- of course, as you grow older, there are more and more. I'm afraid to say that a little like life.
iraq
pbs
the newshour
judy woodruff
deutsche welle
xinhua
mu xuequan
al mada
national iraqi news agency
alsumaria
all iraq news
carly simon
npr
the diane rehm show